Bournemouth
..
.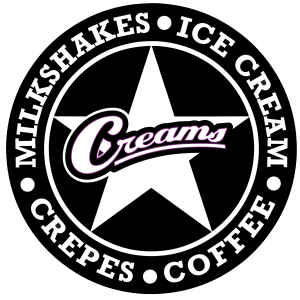 .
OFFER: 20% Off With A Minimum Order Of A Waffle, Crepe, Sundae, Smoothie, Or Milkshake – ONLY with A-List!
Terms and conditions:
Your card must be presented before seating. Advanced table bookings are strongly recommended for a guaranteed table. Permits one person per card unless stated otherwise. Only the cardholder is permitted to use the card. Not to be used in conjunction with other offers.
Creams Cafè started back in 2008 and the first UK franchise took 2 years of meticulous research and planning until it was finally set up. After several trips to Italy, the authentic gelato ice cream was carefully selected to bring you the very best quality of ice cream desserts. This franchise is a unique and independent food brand.
The stores aim to hold an aesthetically pleasing value. They aim to present a 1950's retro Americana genre whilst boasting a black and purple colour scheme alongside with distinctive lighting which adds a trendy, unique looking design and feel.
Creams Cafè has created a wide range of sundaes, smoothies, juices, and desserts that contain recipes which give indulging flavours that can only be experienced at Creams. Our Cafès are a place to visit during any time of the day and is suitable for all age groups.
2 Albert Rd, Bournemouth BH1, UK (city centre)
1-7 Charminster Rd, Bournemouth BH8 8UE