Bournemouth
..
.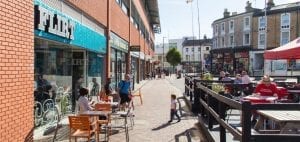 .
OFFER: £5 Meal Deal = Panini / Burger / Wrap or Sandwich plus Fries and Regular Soft Drink. All day / All Week. £1 extra to upgrade to a selected alcoholic drink
20% Off on all other food All Week
50% Off on Champagne, Prosecco, Cocktails, Wine, Beer All Week
20% off Ticketed events – see Flirt's eventbrite 
Your card must be presented before seating. Advanced table bookings are strongly recommended for a guaranteed table. Permits one person per card unless stated otherwise. Only the cardholder is permitted to use the card. Not to be used in conjunction with other offers.
Flirt Cafe Bar fills tummies & quench thirsts. Come in. Be filled. Be quenched. Kettle's on.
Weekend Brunch Buffets. Special Night Food after 6pm.
Our sandwiches are made with M&S Bread. Our Paninis are Sesame-Seed coated and right tasty.
Chips, or Sweet Potato Fries for posh people. And Cheesy Chips. With Gravy. Or Katsu Curry.
Proper Jacket Potatoes. Wraps. Baps. Piled-up Nachos. Salads. Homemade Soup. Miso Soup.
Waffles. Cakes. Puddings. Ice Creams.
Milkshakes. Smoothies. Bubble Teas.
Beers. Ales. Ciders. Lashings of Ginger Beer. Wines.
Et cetera.
End of. You'll just have to come in.
21 The Triangle, Bournemouth, BH2 5RG