Bournemouth
.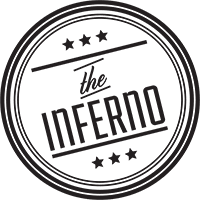 .
OFFER: £2.50 Pint Glass of Magners or Carling .
241 on Woo Woo and Sex On The Beach Pitchers All Day Every Day -ONLY with A-List!
Terms and conditions:
Offers will not be accepted on special gala nights, such large sporting events. Your card must be presented before seating. Advanced table bookings are strongly recommended for a guaranteed table. Permits one person per card unless stated otherwise. Only the cardholder is permitted to use the card. Not to be used in conjunction with other offers.
The Inferno really is a home away from home, with its relaxed and friendly atmosphere and comfortable sofas. Enjoy free wi-fi and printing facilities as well. It's a great place to sit back, unwind and enjoy all of the good thing in life; such as great food, wallet friendly drinks offers, a game of pool or even a bit of beer garden action if the sun dares to shine.
38 Holdenhurst Rd, Bournemouth BH8 8AD