Bournemouth
.
.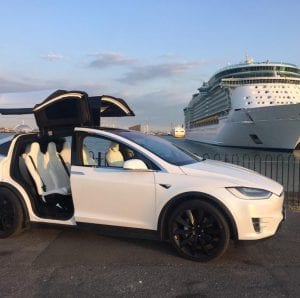 Up to 15 minute Journey = £15
Complimentary Chocolates and Soft Drinks
One Glass of Prosecco or Cocktail per person
Up to 20 minutes Journey = £20
 up to 6 passengers
Please ring Tesla Chauffeur Group Ltd to book:
Sayed: 01202 535353/07530346627
DATES AVAILABLE TO BOOK:
(8pm all the way through to 3am to or from a club destination. Transfers run every 40 minutes)
Sunday 22nd September:
Tuesday 24th September
Wednesday 25th September
Thursday 26th September
Tuesday 1st October
Wednesday 2nd October
More tba
Terms and conditions:
Your card must be presented/made known to staff before accessing the deal. Only the cardholder is permitted to use the card. You are permitted as many passengers that can be legally seated in the vehicle. If deal is not accepted, show the supported app/website A-List offer via mobile phone or similar device to the driver. Request an operator via telephone if you have a question.
(+44) 01202 535353
Tesla Bournemouth, Wimborne road, Poole, Dorset, BH15 3EE teslataxis@hotmail.com