Bournemouth
JANUARY 2020 OFFER: £10 for unlimited access. £20 per month all other times, saving £5 per month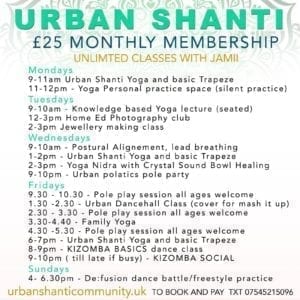 OFFER: £20 per Month Membership for unlimited access to Jamii's classes.
Only £10 for January 2020
Terms and conditions:
Your card must be presented/made known to staff before accessing the deal and registering your discount. Only the cardholder is permitted to use the card. Permits one person per card unless stated otherwise. If you have already joined this gym, you may not be permitted the discount with your card. Not to be used in conjunction with other offers.
"Urban shanti community studio is a place for the public to come and get healthy and fit, try new skills, make news friends, grow self confidence, ground their emotions, find peace in there heart, to view life from a happier more positive mind frame and to quiet the inner chatter amongst many many other benefits. We aim to make classes as affordable as possible"
CONTACT:
Sovereign Shopping Centre, Boscombe, Bournemouth, BH1 4SX
Ground Floor
JAMII – 07545215096